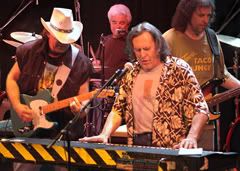 Commander Cody & The Lost Planet Airmen
Yes, the feel-good swing-rockers from the '70s--think "Hot Rod Lincoln"--are back on the circuit with Commander George Frayne leading a lively new unit. The band has its roots in Ann Arbor but hit it big as part of the San Francisco scene with a sound that set the stage for other bands like New Riders of the Purple Sage and Asleep At the Wheel.

Personnel: George Frayne (keyboard, vocals), Steve Barbuto (drums, vocals), Rick Mullen (bass), Mark Emerick (guitar, vocals)

Commander Cody Plymouth MA 2006



Video by 50174.